The Benefits of Precision Investment Casting
Near Net Shaped Castings for Any Application
Choosing to you have your vital products and assembly components created through precision investment casting is one of the best decisions any manufacturing company can make. Precision investment casting produces near-net shaped products, providing engineers and product designers with a wider range of fine detailing options and alloy choices with the highest dimensional accuracy. Whether you're in need of heavy, extremely durable components or delicate, lightweight assembly products, there is simply no better choice than precision investment casting from R2 Quality Castings.


Custom Part Design and Prototyping
R2 Quality Castings offers a wide range of custom part design services for precision investment cast products. We have years of experience utilizing CAD/CAM and SolidWorks systems to create the custom designed production components, scale models, and rapidly developed prototypes our customers require in a timely and efficient manner.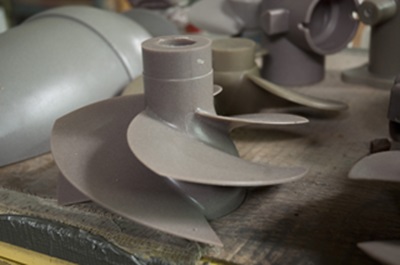 Many Alloy Choices for Precision Investment Casting
The R2 Quality Castings investment foundry is capable of pouring precision investment cast products with a diverse range of both standard and complex alloys. We commonly utilize aluminum, carbon steels, stainless steels, cobalt alloy, nickel alloy, copper- and brass-based alloys, and iron-based alloys to create the highest quality precision investment cast components possible. We further this quality by treating our cast products with a liquid argon blanketing system which creates an insulating layer capable of protecting our cast components from the harmful effects of oxygen and hydrogen.
Reduced Production and Assembly Expenses with Fine Detailing Capabilities
Precision investment casting can greatly reduce the steps required in the production and assembly of your manufacturing components. Several parts can be poured in a single casting, negating the need for welding and mechanical fasteners, thereby reducing your assembly and inspection costs.
Precision investment casting also allows fine detailing options for many different products, including raised lettering, precision holes, serrations, bosses, splines, and even some forms of threading. The fine detailing characteristics inherent in precision investment casting will save your company both time and money by greatly reducing your need to machine your components.
Contact the best precision investment casting company today for more information on how high-quality investment cast products can make a huge difference in your business and your manufacturing process.