Custom Parts Engineering and Fabrication
Custom Precision Investment Cast Parts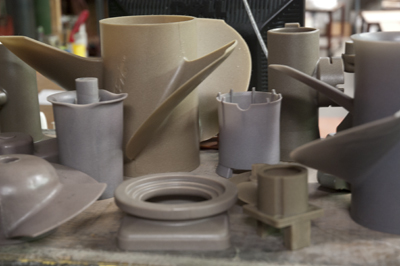 Precision investment cast parts and components aren't just dreamed up and mass manufactured: it all starts with part engineering and development. R2 Quality Castings provides superb precision investment casting part engineering and development services for multiple industries and real-world applications. By working closely with our customers, R2 Quality Castings will design and create the highest quality scale models, injected wax molded products, and rapidly developed prototypes sure to meet and exceed the expectations of our customers.
Precision Investment Cast Part Engineering Capabilities
CAD/CAM and SolidWorks
The precision investment cast product designers at R2 Quality Castings utilize a wide range of design programs and platforms. Our CAD/CAM expertise includes SolidWorks for cast product design and development services. Computer-aided design programs allow precision investment cast parts to be designed without wasting resources. See your custom investment cast part before production to ensure it is exactly what you need.
Scale Part Model Production
R2 Quality Castings produces functional, to-scale part models for testing product designs, fit, functionality, and overall application. Our scale models of precision investment cast components are designed to create relative proportions to ensure high quality equipment parts. These cast components are tested early in development to eliminate the need to restart the casting process. Creating and testing scale model casts is much more time and cost efficient.
3D Printing Prototypes
3D printing services allow our precision investment casters to create highly detailed examples of finished products without having to actually cast anything. Precision investment cast components created in computer-aided design programs are printed as a 3D prototype. The 3D printed prototype is a full size model, allowing detailed visual inspection of the part engineering. These detailed 3D prototypes are cost efficient and saves time on casting an entire prototype component.
Wax Injection Molding
Wax injection molding services allow our precision investment casters to create disposable wax patterns of prototypes for casting and development. Custom precision investment cast component prototyping saves money on creating an entire cast for only modeling purposes. Our wax injection modeling creates a realistic looking cast part to create your custom precision investment cast component. Quality casting modeling services saves you money by showing exactly how each casted product will look before it is made.
Rapid Prototype Enngineering, Development, and Production
R2 Quality Castings provides unbeatable rapid prototype engineering and development services for your precision investment cast component needs. By utilizing our extensive part engineering and cast component production capabilities, R2 Quality Castings will produce a fully functional, high quality prototype for implementation testing. Our quality verification service department will also test your prototype to determine any potential issues and provide recommendations for improvements.
Contact the precision investment cast part engineering specialists at R2 Quality Castings today for more information on our part engineering and prototype production services.