Precision Investment Parts for Industrial Mixing
Precision Cast Propellers and Impellers for a Variety of Industries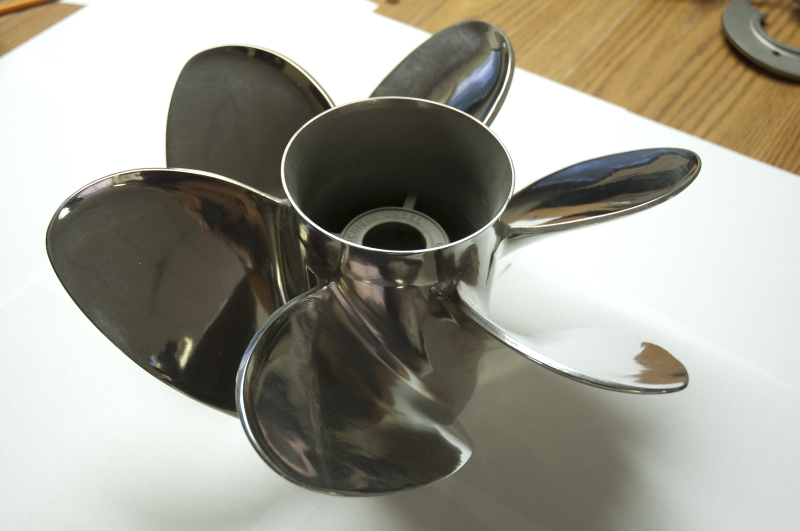 The precision investment casting team at R2 Quality Castings fabricates OEM and custom components for a wide variety of industrial applications. Aerospace to pharmaceutical, we can create propellers and impellers tailored to your exact specifications. In addition to standard 3-blade MP propellers and 3-blade weedless, we can also cast custom propeller and impeller design molds. Our precision investment cast products are known for their excellent quality and durability no matter the application they are designed for. We can cast both ferrous and non-ferrous alloys, creating powerful, effective products to keep your equipment and operations running smoothly.
Advanced Precision Investment Casting Services for Industrial Applications
We use a super-cooled liquid layer of argon to protect the molten steel from the damaging effects of oxygen and hydrogen. This significantly reduces the chance for pitting and porosity, while maintaining the exceptional quality of our cast components. Investment cast tooling is ideal for a variety of industrial applications, from small 2-blade weedless propellers to large 150 pound propellers. Investment casting is one of the oldest know metal forming techniques, and is well-known for its precision. Our investment casting tooling services are so precise, hardly any machining or grinding is needed after we break the mold open. This precision saves you time, money and materials, producing superior products quickly and efficiently.
Different industries have varying polishing and finishing requirements, which is based on the function of the completed cast component. Food preparation to agriculture professionals will find the finishing and polishing services they require at R2 Quality Castings. Our finishing and polishing services include:
Dairy Buff (#4 Finish)
Polished Finish
#36 Grit
Roto-Dull Finishing
Mirror Buff (#8 Finish)
Our professional product finishers are knowledgeable and experienced in various polishing requirements for many different industries throughout the country.
Benefits in Quality Precision Impeller Parts for Industrial Mixing
Whether you're in the pharmaceutical profession, or in the lab, combining chemicals, having a reliable impeller is the key to efficient work and accurate product outcome. Compared to past models, modern mixers are hydraulically or electrically powered, maximizing their capabilities in meeting today's standards. As the future of industrial mixing continues to brighten, successful proceeding companies continue reaping in benefits, such as:
Modern mixers maintain temperature and pressure requirements, producing better results in mixing countless materials.
With hydraulic and electrical-powered capabilities, mixers can perform complicated procedures, such as dry blending, emulsification, or homogenization. Programmed controlling helps such processes.
Today, mixers guarantee smoother blending of materials, proving itself a more reliable machine than past models.
Types of Turbines and Mixers
Propellers, impellers, turbines, and mixers; all carry out the same task of blending special materials into one new product. Here, we will break down the different families of turbines, dissecting their uses and specialties. R2 Quality Castings offers the best prototype casting for all sorts of jobs.
Turbines
Different components are used for various tasks, such as turning gases into liquids, or vice versa. Amount of torque and flow direction are the major differences of each turbine type, producing the required results.
Specified types of turbines include:
Rushton turbine
Pitched blade turbine
Hydrofoil
Marine Propeller
High Shear Dispersers
Rotated at high speeds, the disperser is used for emulsions of liquids and breakdowns of solids. Its shape is similar to a circular saw blade.
Close-clearance Mixers
These are used for convection and diffusion jobs, since fluid can be sticky, overriding inertial forces of flow. The close-clearance mixer also prevents the liquid's escape. There are two types of close-clearance mixers: anchors and helical ribbons.
Anchor mixer – rotation of solids, non-vertical mixing
Helical ribbon – pushes material downwards, helps circulate fluid
Static Mixers
Promotes continuous mixing of liquids and is used when a mixing tank would be too much for an intricate process.
Proving Success in any Industry
Advantages of investment casting are beneficial to any business that invests in Quality Casting's services. The caliber of mixing equipment is just as important as the product itself, contributing to a specific industry's success and our reputation. Let our precision casting engineers provide the right mixing components for your manufacturing needs.
Custom Fabrication Services
R2 Quality Castings fabricates components for a wide variety of industries. Our investment casting services are ideal for high performance products, like turbine blades. No matter the application of your precision cast component, the finished products from our experienced casters are durable and reliable, keeping your day to day operations running smoothly.