Industrial Mixing Propeller Manufacturer
R2 Quality Casting manufactures high-quality, customizable mixing propellers for food preparation, gas-liquid dispersion and liquid-liquid mixing. Our team has decades of experience producing industrial propellers for various industrial and manufacturing applications. Whether you need an impeller for blending batter in a commercial bakery or mixing paint pigments in a coatings plant, we have the expertise to deliver.
All of our industrial mixing propellers are crafted from top-grade alloys in our Southeast Wisconsin foundry, and we serve customers across a wide range of industries. Our technical experts will assess your specific mixing needs and design a robust, efficient propeller optimized for your vessels and applications.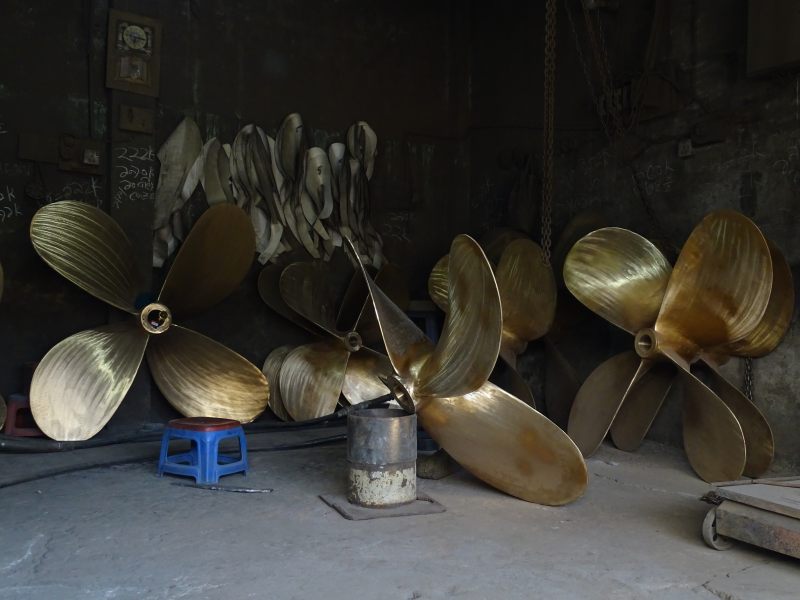 Mixing Propeller Varieties and their uses
Mixing propellers, also called impellers, are designed for specific mixing capabilities within mixing vessels. Different industries utilize different kinds of propellers for their unique mixing requirements.
Types of Mixing Propellers
Airfoil: Airfoil propellers are most often used in the form of high-efficiency fans. They excel in circulating gasses within an environment or promoting airflow and the dispersion or removal of gasses in an environment. Airfoil impellers have very low shear and move efficiently.
Pitch Blade: Pitch blade propellers are ideal for mixing viscous substances and for applications requiring even circulation and higher shearing than an Airfoil propeller offers.
Radial Blade: A radial blade propeller offers the highest level of shear. The vertical blades of the propeller excel at keeping mixtures continually agitated and are often utilized if agitation at the bottom of a tank is required.
Marine-type: Marine-type propellers mimic the appearance of the propellers on boat motors and other aquatic vehicles with curved blades to reduce shear while enhancing pumping ability. They are ideally utilized for low-viscosity, high-speed mixing.
Mixing Propeller Applications
Food and Beverage Production: Mixing propellers assist in mixing ingredients in food processing or a brewing and distillation process, homogenizing dairy products, kneading dough and more.
Chemical Processing: Mixing propellers are used to mix and blend chemical compounds and promote chemical reactions through mixing. Propellers can also be used to circulate gases through specific areas during chemical processing.
Pharmaceutical Production: Mixing propellers are utilized in blending and mixing pharmaceutical ingredients and compounds and ensuring uniform distribution of active ingredients in drug formulations.
Water and Wastewater Treatment: Mixing propellers are used to promote chemical reactions in the water treatment process and aerating wastewater to enhance biological treatment.
Paint and Coatings Manufacturing: Mixing propellers are utilized to mix pigments, resins, solvents and additives in order to create color and quality consistency in paint and other coatings.
Plastic and Polymer Production: Mixing propellers are used to blend polymer resins and additives, as well as mix and compound plastic materials.
Construction and Concrete Production: Mixing propellers are used to mix concrete ingredients for construction projects and develop consistency in concrete quality and strength.
Quality Casting's Comprehensive Propeller Solutions
For over 40 years, R2 Quality Castings has been the premier manufacturer of investment castings for industrial mixing propellers. Our unrivaled attention to detail and commitment to customer satisfaction set us apart from our competitors.
Our experienced engineers work closely with you to understand your specific application and project requirements and leverage our technical expertise and state-of-the-art facilities to deliver robust, high-efficiency designs optimized for your needs. Whether you need a one-off replacement propeller or a full production run, we have the capabilities and understanding to exceed your expectations.
Industrial mixing propellers from R2 Quality Castings are built to withstand even the heaviest use. We only use the highest-grade alloys and employ meticulous quality control measures to guarantee the consistency and reliability your work demands. For a partner you can trust to keep your industrial mixing equipment running smoothly, contact R2 Quality Castings today.
Contact R2 Quality Castings for your investment casting and mixing propeller needs!