Finishing and Polishing for Precision Investment Cast Products
Propeller Finishing Services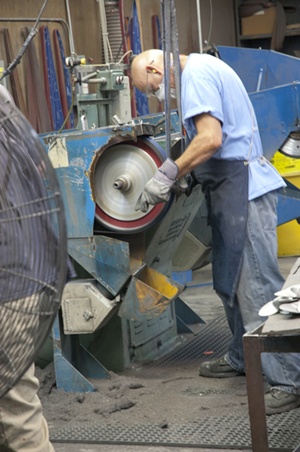 One of the most important steps behind manufacturing and completing high quality precision investment cast products is the finishing and polishing stage. Different industries have differing polishing and finishing requirements, largely depending on the application or production needs. From agricultural applications to the food preparation industry, R2 Quality Castings will finish and polish the material to your exact specifications. We offer exceptional propeller casting, polishing and finishing services to complement our industrial propeller production capabilities. Our expert product finishers are well versed in various industry polishing requirements.
We utilize a wide range of polishing systems and products, including:
Roto-Dull Finishing
Polished Finish
#36 Grit
Dairy Buff (#4 Finish)

This finish is commonly used in the medical/food industry, usually on stainless steel. This finish enhances the appearance of the metal, and increases sanitary benefits.

Mirror Buff (#8 Finish)

All surface defects are removed. The quality of the finish depends on the metal. Some steel alloys and aluminum can't be brought to a mirror finish. Castings with pits are difficult to polish to a #8.
In addition to our finishing and polishing services, R2 Quality Castings provides exceptional quality verification services, including static balancing and non-destructive testing services, ensuring your finished component is ready for use as soon as you receive it. All of our components go through an extensive quality check, promising years of reliable use.

Contact the finishing and polishing services specialists at R2 Quality Castings today for more information on our precision investment cast product manufacturing services.