Custom Cast Propellers
The Quality Castings Advantage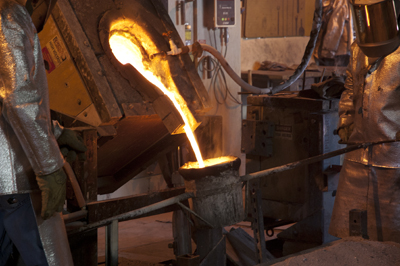 R2 Quality Castings takes great pride in our exceptional precision investment casting, quality verification testing, and part design services. We have decades of combined experience in creating superb quality precision investment cast components for many different industries, including military applications, food processing, wastewater treatment, and more. Choosing an experienced and dedicated precision investment casting company can make all the difference when you need high-quality cast manufacturing components crafted to your exact specifications.
R2 Quality Castings is the top choice for precision investment casting services. Decades of experience in the industry, coupled with a wide-ranging knowledge of casting methods and quality verification, finishing and polishing services, non-destructive testing, and access to CNC machining capabilities allow our master precision investment casters to fabricate high-quality products ready for implementation at the minute your receive them. Whether you need an industrial mixing propeller for your high-speed dispersion equipment or a detailed cast statue, our industry expertise allows us to do it all.
R2 Quality Castings offers exceptional foundry assistance services for precision investment cast product development and testing. Decades of experience in heat-treating cast products, chemical composition testing, and non-destructive testing methods ensure R2 Quality Castings can provide the vital services many foundries simply don't offer. Our full-service precision investment casting company has all of the services you need under one roof to save you time and money. We provide everything from custom part design to quality verification testing.
Precision investment cast products start with exceptional part engineering and development services. R2 Quality Castings works with a wide range of design programs, such as CAD/CAM and SolidWorks, to design to-scale models and prototypes for many different industries. We also offer 3D printing and wax injection molding services. The 3D printing services give you a detailed prototype without having to go through the casting process, saving you time and money. Wax injection molding is used to create disposable wax prototypes for modeling purposes, so you can see what the casting will look like before it is created. Our rapid prototype development services produce functional prototypes ready for testing and evaluation.
Thoroughly testing and examining finalized precision investment cast products is vital for ensuring total product quality and dependability. R2 Quality Castings offers a wide range of quality verification services, including static balancing, straightening, chemical testing, and certification, final product visual inspections, and NDT testing services. We will ensure every precision cast component is carefully inspected, tested, and approved before you receive your final product.
Contact the best precision investment casting company today at 866-664-5443 for more information on our exceptional precision investment casting, product development, and testing services.
Custom Propeller Design and Manufacturing Services
R2 Quality Castings specializes in precision investment casting for marine propellers. We are capable of casting propellers in a variety of styles including:
3-Blade Marine Pitch Style
2-Blade Weedless
3-Blade Weedless
Our 3-blade marine pitch propellers are designed for a wide variety of applications including blending, mixing, and agitating. This style is available with either a full or clipped blade. The 2-blade weedless propellers are designed for use in aeration or mixing equipment. They are most commonly utilized in wastewater applications. 3-blade weedless propellers from R2 Quality Castings are also ideal for like applications, providing even smoother operation. Both the 3-blade and 2-blade weedless propellers are manufactured to excel in stringy liquids. Propellers not designed for weeds will become snagged, and wear out much quicker.
Every boat application requires a specific type and size of propeller if it's going to perform at its highest level. We know every moment you get to spend on the water is important, and if you're going to buy a new propeller for your boat, it has to be perfect. Investment casting allows us to create the most precise prop, giving you the best experience on the water.e
Whether you choose a 3-blade or 4-blade propeller, we'll make sure your custom design is perfect for your specific application.
Contact a propeller casting specialist at R2 Quality Castings for more information or to receive a quote today.
Custom Food and Waste Propeller Services
If you're looking for a custom propeller for the waste or food industry, we specialize in that too. Our limitation is your application. With our investment casting experts and rapid prototyping technology, you'll know exactly what you're getting and have peace of mind in knowing each and every custom propeller we produce is meticulously inspected and finished to exceed your standards.
Custom Propeller Design and Development Services
Including custom options such as clipping, cutting, pitch-changes, special bore sizes, or set screws, R2 Quality Castings provides expert custom propeller designs. Our propeller finishing services are second-to-none and non-destructive testing is a vital step in making sure our products perform reliably and safely.
Some of our custom propeller services include:
Static balancing: the ability to maintain balance or the center of gravity is where the axis of rotation is, so rotation doesn't occur due to gravity.
Clipped propellers: are perfect for draft tube applications
Standard Setscrew(s): we have the ability to custom make set screw prop adapters to your specifications.
Custom bores: the bore is the hollow center of the propeller, where it fits on the shaft; we can customize the finish to be straight, tapered, threaded, or broached.
We incorporate modern technologies into our process so you can see exactly what your custom propeller will look like before we begin the investment casting process.
For rapid prototyping, we use:
CAD / CAM and SolidWorks
Scale Part Model Production
3D Printing Prototypes
Wax Injection Molding
R2 Quality Castings uses a wide variety of alloys for custom propeller applications. If you don't see the metal you want your custom propeller made from, contact our custom propeller specialists to request it.
Our custom propeller fabrication materials include:
300 and 400 Series Stainless Steel
Precipitation Hardening Steels
Nibral
Bronze
Hastelloy
Alloy 20
Aluminum
Other Materials Available Upon Request
Our custom propeller finishing options are:
36# Grit: a standard finish removing burrs and other imperfections – the metal is polished to a uniform 36 grit
Roto-dull: high-speed finishing for deburring, descaling, and finishing investment casting made parts – reduces vibratory process cycles for deburring of castings
Dairy Buff (#4 Finish): a finish most commonly used in the medical and food industries – generally for stainless steel mixing propellers. A #4 finish enhances the appearance and dramatically inhibits microbial growth
Mirror Buff (#8 Finish): this finish removes all surface defects - the quality of the mirror buff finish depends on the metal, in fact some steel alloys and aluminum can't be brought to a mirror finish
Whether you need one custom propeller or 5,000, we can create the perfect customized propeller for your needs.
Our gallery showcases everything from investment cast mold production to finishing and polishing of industrial propeller castings. Marine propellers from R2 Quality Castings can be customized with a variety of finishes and materials to suit your specific application.
Contact the custom propeller casting specialists at R2 Quality Castings for more information or to receive a quote today.