Industrial Mixers for Wastewater Treatment
Investment Casting Manufacturers Build Custom Mixing Propellers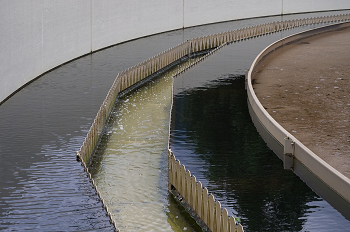 Quality Castings in Wisconsin manufactures custom mixers for the water and sewage treatment industries. These play a key role in keeping water clean for drinking, river flow, and the irrigation process. Our propellers and mixers require incredible precision in handling and construction – we're the best in the USA in producing flawless results.
Our mixers effectively purify water within the necessary stages of the wastewater treatment process:
Neutralization
Our custom cast propellers are specially designed to minimize the amount of damage done to the blade tips by the water.
Sludge Breakdown
Custom-made propellers help to decompose sludge and other solid waste. When the solid waste is removed, the other materials dry out faster.
Flocculation
R2 Quality Castings manufactures propellers that gather fine particles of debris and lump them together for easy removal.
Wastewater treatment plants experience several benefits from using our custom mixing propellers. From detailed concept sketching to perfecting the finished product, Wisconsin's Quality Castings is the only company you'll ever need for custom-manufactured mixers and propellers. Tight tolerances and complex elements are no match for our investment casting foundry.
Marine Life & Boat Propeller Manufacturers
Quality Castings crafts boat propellers for efficient maneuverability and speed. A well-manufactured boat propeller isn't something that can be cranked out on an assembly line. Every propeller component is custom-made, down to the finest detail.
There are three types of popular marine propellers - classified by the number of blades attached to the center of the hub:
3-Blade
Excels at high-speeds
Difficult handling at low-speeds
Efficient acceleration
Can be crafted from aluminum alloy & other metals
Costs less to manufacture
4-Blade
High in durability & strength
Excellent low-speed handling
Higher in manufacturing costs
Can be casted with stainless steel alloys & other metals
5-Blade
Extremely durable & efficient
Minimal vibration
Highest in manufacturing costs, compared to 3- & 4-blade
Operates better in rough waters
Aside from wastewater treatment, Quality Castings produces mixers for food prep, boating, and more.